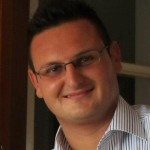 Ivan is a typical sport-loving 23 year old guy.  He lives in Čapljina, his hometown, where he graduated from high school in 2008.  His favourite things are English football (he's a huge Liverpool fan) and Formula 1.  He also really enjoys hanging out with friends.
In 2010, Ivan completed one year studying economics at Mostar University, before he realised it wasn't for him.  Like many young people in Bosnia and Herzegovina, Ivan has really struggled to find any form of employment.
Soon after he finished with university, he found out about a computer course that Novi Most was running in Čapljina.  He thought this sounded like a great opportunity to improve his skills and make himself more employable.  He loved the course, and also enrolled on an English language course at Centar Novi Most in Čapljina and a German course which he commutes to at Klub Novi Most in Mostar.
He says: "Learning English at Novi Most was so much easier than at school as at Novi Most you have opportunities to speak with real English people all the time.    It has been such a great way to get better at the language.  For me, Novi Most has been really key in helping me gain confidence in my skills – when I told Ali that I had dropped out of university, she invited me to come and volunteer at Novi Most.  Who would have thought it, but 2 years later now I'm teaching one of the Novi Most English courses!  I started teaching one evening a week two months ago – I didn't think I would ever be a teacher, let alone teaching another language to other young people!
I don't know where I would be right now if Novi Most didn't exist – my life certainly wouldn't be so interesting.  I have made such great new friends and I really appreciate this opportunity I have had to learn so many new skills.  Novi Most has really helped me discover what I am good at.  I used to have no ambition or real hope for my life.  I still don't know where God will take me, but now I'm excited to wait and see!"
Would you be interested in helping young people like Ivan gain new skills and hope in their future through participating on one of our Novi Most courses?  Why not consider sponsoring one of our courses today?