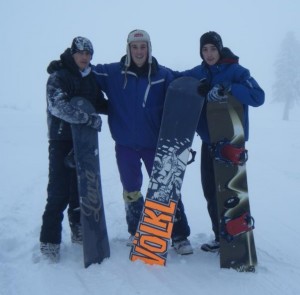 Denis, 17, from Jajce, is studying to be a chef at high school.  He has recently discovered that he has a new passion in life…snowboarding!
"I have been attending Novi Most since they began working here in 2010 – they have given me so many opportunities to go to different places, meet new people and have adventures.  Recently I got to try snowboarding for the first time through Novi Most.  It is such a super sport, maybe the best I have ever tried.  I have loved learning how to do all the different turns, especially spinning round and round.  I never thought I'd ever get to go snowboarding.  If someone told me a year ago that I would be able to snowboard from the top of Ranč (a mountain next to Jajce) I would have told them that they were lying, that I would never be able to do that! Now I really want to progress in this sport and gain more confidence on the slopes.  I'm so glad Iain (Novi Most volunteer) came from England to teach us and that Novi Most can give us this opportunity.  I now realise how lucky we are here in Jajce to have such a good snowboarding slope so close to us.  I can't believe that people in the UK have to pay so much money to do this sport, when we have mountains and snow freely available on our doorstep."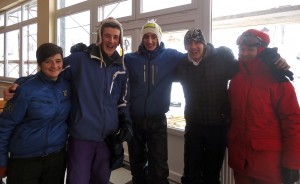 Kata, 14, from Jajce, also exclaims: "I had the chance to snowboard for the first time on winter camp last year, but I fell over as soon as I got on the board and I was terrified – I never wanted to go on a snowboard again.  However, I really like sports and when I heard there was the opportunity to try snowboarding again with Novi Most I thought I should give it ago even though I was really scared.  When we drove up the mountain on the first day I was so nervous, but when we got out the equipment from the van and Iain started explaining what to do and helping us I started to relax.  I still can't believe I managed to snowboard from the top of the mountain on the second day that Iain was teaching us!  I never would have managed if he hadn't been so encouraging and made it easy for us."
Matt Hellyer and Sabahudin Hajder from Novi Most Jajce both got a taste for snowboarding when they were given the opportunity to try it out at winter camp last year.  After some research, they came across a Swiss organisation that sold on second hand snowboard equipment.  They began to dream about giving young people in Jajce the opportunity to try this sport, learn a new skill and discover the amazing snowboarding conditions they have on their doorstep.  This dream became reality when Iain Manwaring from Horsham, England, gave up his time to come and volunteer for a week in Jajce as a snowboard instructor.  He says: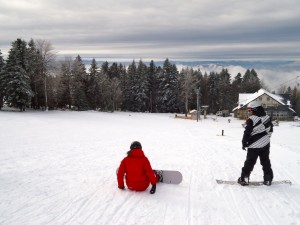 "I am so jealous that Bosnia and Herzegovina has such amazing winter sports conditions – I would love to live here and be able to go to the mountains every day!"
We are sure that Iain has not just encouraged young people from Jajce in their abilities and confidence, but opened their eyes to the amazing snow conditions they have in their country!
Bosnia and Herzegovina hosted the winter olympics in the mountains surrounding Sarajevo back in 1984.  The mountainous terrain across the country allow for great winter sports opportunities.  Skiing is a popular activity as well as a method of transport for many during extreme weather conditions.  Most extended families who live near mountain ranges will have a pair of skis.  However, snowboarding is far less common – so giving young people the opportunities to take up the great but unrecognised opportunities around them, as well as the opportunity to learn new skills, is innovative – and the potential is huge!