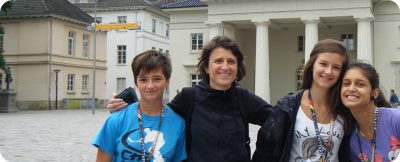 Katarina, 13 years old from Jajce shares her travel experience last summer:
"This August was the first time I ever left my country, Bosnia and Herzegovina. I have lived all my life in Jajce and so it was very exciting for me to get this opportunity to go to Germany for a week. Not only did I go to Germany, but I had to travel through Croatia, Slovenia, Austria and the whole length of Germany to get to our destination.  It was the longest journey I've ever been on – 28 hours! But it was worth it – I met young people from all over Europe from as far away as Finland and the Faroe Isles!  I had never seen so many teenagers before in one place and I was a little bit lost at first but then I had a great time and I was sorry we had to go home.  The best thing about the event was the praise and fellowship – it was really interesting when we had our small group discussion and we talked about and read the Bible – I learned so man things because we talked about so much.
Thank you so much Novi Most for helping make this experience possible by helping me apply and get a passport.  I hope I can use it again soon. I'm now thinking about studying abroad in the future!"
Novi Most has been working with Katarina for 2 years and Dina, pastor of the evangelical church in Jajce, has known the family for much longer. This year Katarina completed the youth alpha course which Novi Most and the church in Jajce ran together.
The Teen Street conference was run by Christian organisation, Operation Mobilisation and this year the focus country for the event was Bosnia & Herzegovina. They paid for all 29 people from this country to go. Matt Hellyer, Novi most Jajce team leader, took the four young people who had completed the youth alpha course to the conference as he felt that they would really benefit from attending an emphatic Christian camp.  He can see change in all of their lives  and knows things won't be the same for them. Check out the song he wrote about the experience below.